X Fungal Antifungal Cream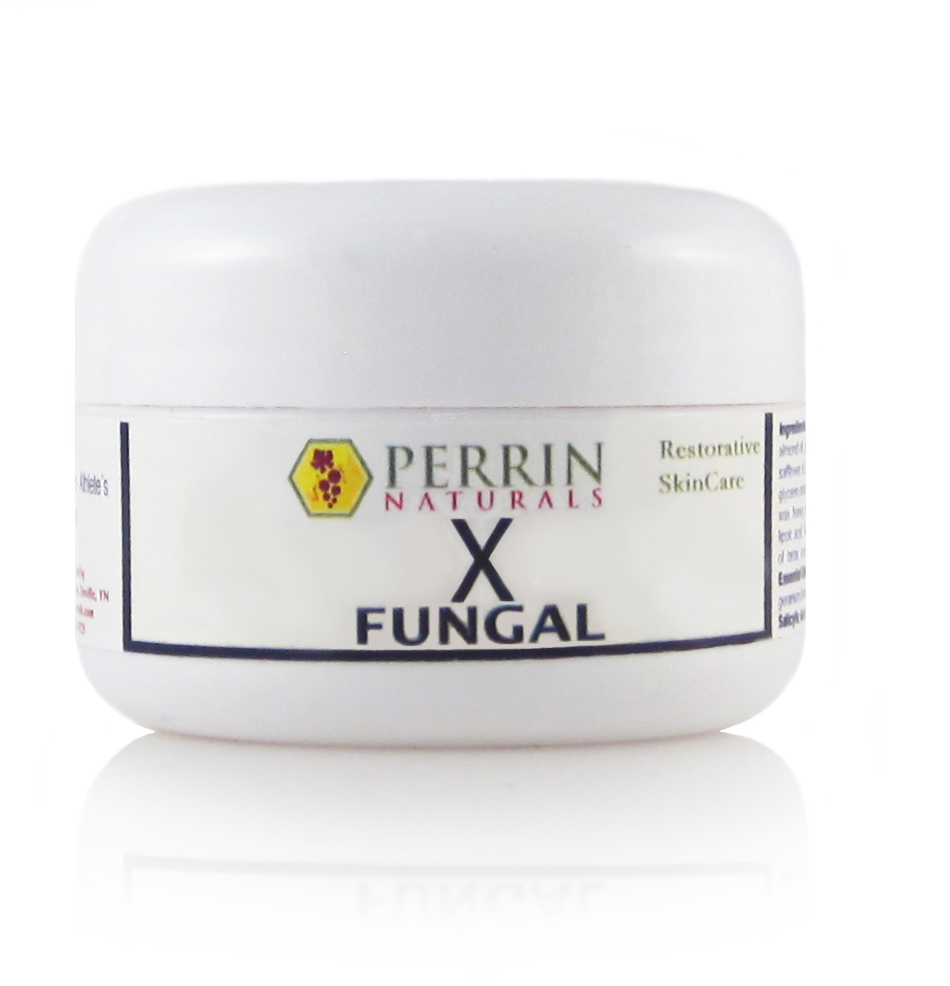 Short Description:
Natural Antifungal Cream with Essential Oils, Resveratrol, Salicylic Acid .5oz
Description
Ingredients
How to Use
A Natural Tinea Fungus Solution
A natural cream for fungal infections: Athlete's Foot, Ringworm, Nail Fungus.  
We combine anti-fungal essential oils with the anti-fungal polyphenol Resveratrol and the naturally occurring plant based Salicylic Acid.
Ingredient Highlights:
•Resveratrol is a phenolic antioxidant found in grapes and has displayed potent antifungal activity against human pathogenic fungi in clinical studies
•Salicylic acid is a compound obtained from the bark of the white willow and wintergreen leaves. It has bacteriostatic, fungicidal, and keratolytic actions.  Salicylic Acid is a beta hydroxy acid that occurs as a natural compound in plants. It has direct activity as an anti-inflammatory agent and acts as a topical antibacterial agent due to its ability to promote exfoliation.
•Essential Oils- Lavender, Geranium, Clove, Tea Tree, Oregano, Lemongrass, Thyme, Peppermint, Cinnamon have all demonstrated Anti-Fungal effects in clinical studies.
•Castor Oil, Coconut oil, Jojoba oil, all have anti-fungal effects.
Comes in 1/2 oz containers
Ingredients: Organic aloe vera, organic beeswax, organic coconut oil, organic jojoba oil, grape seed oil, organic cocoa butter, organic castor oil, organic vegetable glycerin, natural vitamin E in soy oil, salicylic acid, emulsifying wax NF, tea tree oil, clove oil, thyme oil, lemongrass oil, cinnamon oil, resveratrol, benzyl alcohol (natural preservative) organic lecithin, vitamin C (ethyl l ascorbic acid), n-acetyl cysteine, sodium bicarbonate, alpha lipoic acid, geranium oil, cream of tartar, grape seed extract, frankincense oil, sorbic acid, lavender oil, xanthan gum, peppermint oil, ascorbic acid, citric acid, potassium sorbate.
Natural preservatives and antifungals: essential oils, salicylic acid, benzyl alcohol, sorbic acid, potassium sorbate.  
Salicylic Acid: 3%
Apply at least 2 times daily, or as often as needed until symptoms subside.  Use until you are confident there is no infection remaining.  If you have an open sore or skin that has split open, some initial burning may occur, but should lessen as the condition improves.