Creme Complete | Refinement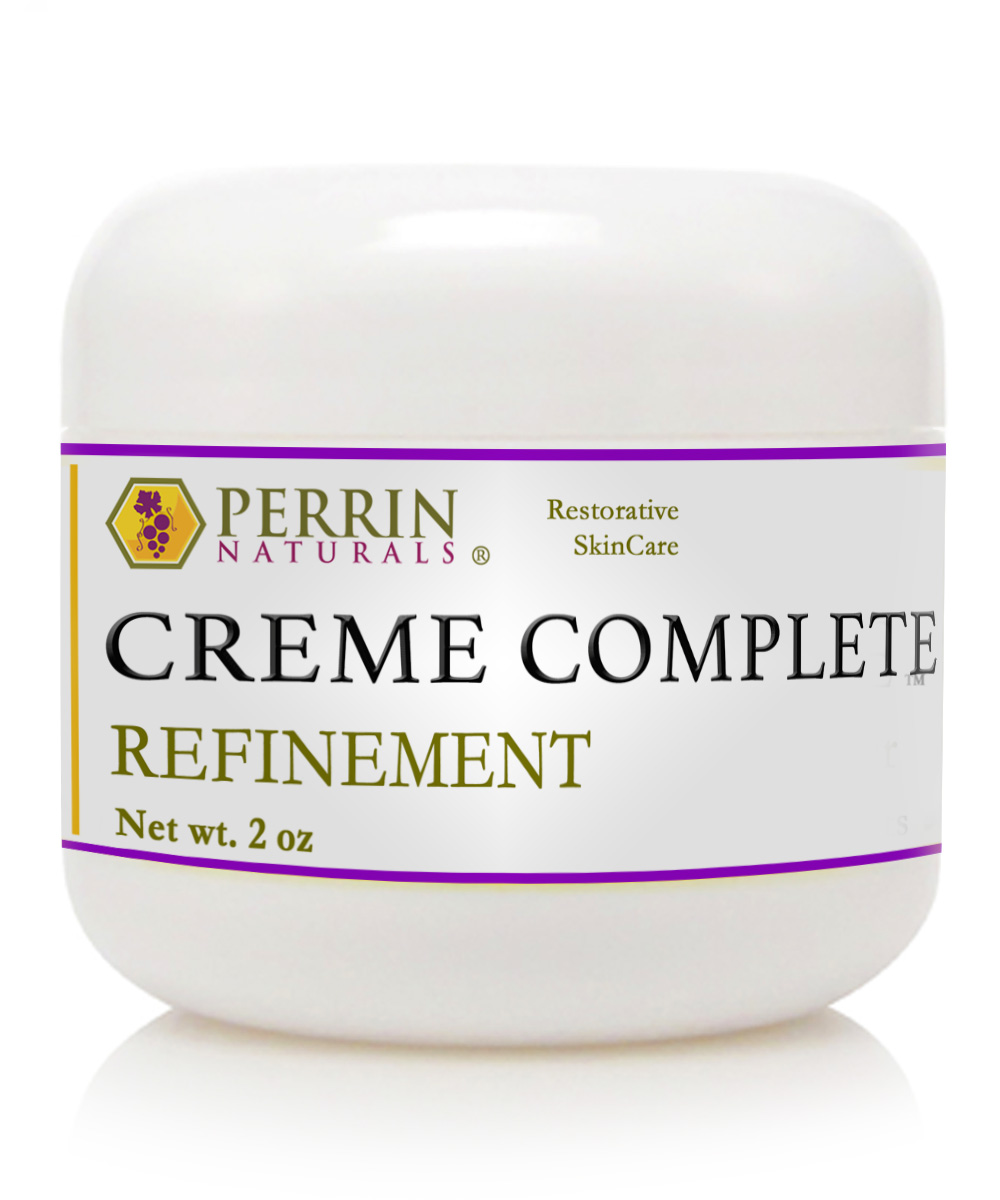 Short Description:
Creme Complete–Refined Formula
Description
Other Info
Ingredients
How to Use
CREME COMPLETE | Refinement:
•A superior form of Vitamin C: Ethyl L Ascorbic Acid
•More Biotin, more Alpha Lipoic Acid, more Resveratrol, more Vitamin D
•Almond Oil replaced with Organic Jojoba 
•A refined selection of Essential Oils.
ALL NATURAL SKIN THERAPY
A natural multi-faceted approach to skin rejuvenation and restoration.
A corrective, restorative formula for sun-damaged skin, rosacea, brown spots, lichen sclerosus, abnormal skin tissue, and overall skin health.
The Creme Complete contains the greatest combination and highest concentration of restorative and corrective ingredients of any of our creams and moisturizers. The Crème Complete is completely natural.  The Crème Complete restores, moisturizes, and protects.
Sun-damage has been reversed. Brown spots from sun exposure have returned to normal, healthy looking skin.

Actinic keratosis has been corrected.

Lichen Sclerosus has been put into remission, and the skin rebuilt. Many of our customers are referred to us by their doctors, without us ever soliciting the doctors.
About some of the ingredients:
Resveratrol and grape seed extract help to stifle the growth of abnormal skin cells, and encourage an apoptosis (a dying off) of those cells.

Alpha lipoic acid helps to reduce fine lines and wrinkles.

CoQ10 helps to restore proper cellular function.

An array of antioxidants to fight free-radical damage: CoQ10, alpha lipoic acid, N-acetyl cysteine, vitamin C (the superior form of Ethyl-L-Ascorbic Acid), and natural vitamin E (d-alpha tocopherol) , grape seed extract, resveratrol.
2 oz
Refining the formula:
Around 2008, we first developed the basic formula of what was to become the Crème Complete.  We made adjustments over the next year or so, but since then, very little has changed in the formula other than things like: slightly increasing antioxidant content, adjusting essential oil amounts for a better scent, and switching some of the ingredients to organic.
That was almost 15 years ago and we have learned a lot since then. We have learned what people like and dislike, while also learning what makes the Crème Complete good product and what would make it a better product.
In light of better knowledge, we will be making the following adjustments:
•We have switched the Almond oil to organic Jojoba oil.  This makes a slightly less greasy product while also eliminating an allergen (almonds) for many people.
•We have removed the Retinol (Vitamin A).  Retinol can be an irritant to some people, but we never put much in the product anyway; it was initially added to provide minor supplementation for the skin.  We have come to believe the amount we use doesn't really provide many of the benefits people associate with standard retinol serums, and could give a negative impression to people who would rather not have the Retinol in the product.  Also, Retinol needs a higher PH level to be most effective, which is higher than the Crème Complete. There are plenty of Retinol creams on the market that people can use (and we may eventually offer one of our own).
•While eliminating the Retinol, we have increased the Vitamin D and Biotin amounts.
•We have also increased Resveratrol by about 10%.  (This has happened incrementally over the past year)
•We have increased the Alpha Lipoic Acid by about 5% (also incrementally over the past year).
•We have switched to a better form of Vitamin C: L-Hexuron (or Ethyl-L-Ascorbic Acid).  We have traditionally used just plain Ascorbic Acid, which is a great form of bioactive Vitamin C, but it is unstable: it degrades when exposed to air and water (aloe vera in our case), eventually becoming a possible irritant to skin.  It will also cause the whole product to darken with time. So, we have switched the Vitamin C to 3-O-Ethyl-L-Ascorbic Acid.  Ethyl-L-Ascorbic Acid is a superior Vitamin C derivative. It is very stable, and is easily converted to Ascorbic Acid by enzymes in the skin.  
•PH Level.  The PH of the skin is around 4.7-5.5.  To interest of customers using the Crème Complete for Lichen Sclerous, the PH of the skin around the vagina is a little less.  Switching from ascorbic acid to Ethyl-L-Ascorbic Acid will cause the PH of the Crème Complete to be less acidic and closer to the actual PH of the skin as a whole, and also closer to the PH of the vaginal area.
•Essential oils.  After consulting with about ten different companies, we found an organic skin care product formulator and manufacturer we connected with.  We let her tinker with our essential oil combination and selection, and we are switching the essential oils to a combination of: Ylang Ylang, Rose, Lavender (South African), Clary Sage, and Roman Chamomile. 
•A natural preservative:  All water-based (and aloe vera based) creams are prone to bacterial, yeast, and fungal growth.  Up until now, we have relied on essential oils and the potassium sorbate (which comes in the cold pressed aloe vera we use) to act as the preservative in our products.  But a person can use a jar of the Crème Complete for months, possibly contaminating it with every use.  And as more people use the Crème Complete, we feel the need to be more intentional with making sure we provide a product that can withstand contamination. This is especially important for people who use the Crème Complete for Lichen Sclerosus.
•Some essential oils contain compound(s) that are naturally antimicrobial.  One of those compounds is benzyl alcohol. One natural preservative formula that uses benzyl alcohol is NipaGuard® SCA. NipaGuard® SCA is a mild, natural preservative system that is approved by Whole Foods and meets COSMOS and ECOCERT (International Natural/Organic Product Certification) standards.  It is effective at very low concentrations.  This also means we can cut back substantially on the amount of essential oil in the Crème Complete.
We have been using our new Crème Complete formula around our eyes, mouth, and other sensitive areas of the body without irritation.
All these changes are meant to ensure the Crème Complete continues to stand the test of time and is always available for purchase.  We hope these changes make the Crème Complete a more widely appealing product so more people get the benefits of using what we believe is one of the best skin care products on the market.  The more people who can (and do) use the Crème Complete, the more likely it will still be available 50 years from now.
Ingredients: organic cold pressed aloe vera, grape seed oil, organic beeswax, organic vegetable glycerin, organic cocoa butter, natural vitamin E (d-alpha tocopherol) in soy oil, vegetable derived emulsifying wax, organic jojoba oil, safflower oil, organic castor oil, organic honey, organic lecithin, NipaGuard®SCA (natural preserative), vitamin C (Ethyl L Ascorbic Acid), n-acetyl cysteine, resveratrol, alpha lipoic acid, sodium bicarbonate, ylang ylang oil, lavender oil, CoQ10, cream of tartar, grape seed extract, xanthan gum, rose absolute, clary sage oil, geranium oil, biotin, vitamin D, chamomile oil. Aloe Vera is 99.8% pure, containing less than 0.2% of potassium sorbate (a natural preserative,) ascorbic acid, and citric acid (for PH).
Sun-Damage
If using as a corrective for sun-damage use at least 2 times daily. 

With extended and extensive use the Crème Complete may cause sun-damaged areas to become inflamed, turn red, and to possibly peel.  Usually this is a good sign indicating that the abnormal skin tissue is responding to the cream.
Daily moisturizer
To use as a mildly corrective moisturizer apply 1-2 times daily.
Rosecea
Apply 1-2 times daily to affected area
Wrinkles
Apply to affected area 1-2 times daily.
Lichen Sclerosus
Application frequency varies with lichen sclerosus. Customers who use the Crème Complete for lichen sclerosus will apply the Crème Complete™ anywhere from 2-6 times daily.  Depending on the severity and location of the condition some customers experience discomfort, while others experience instant relief.  Please read our customer testimonies for more detailed accounts. 

 
We recommend using the Creme Complete within a year of the purchase date if ordering directly from us.