Revive - The Ultimate Restorative Moisturizer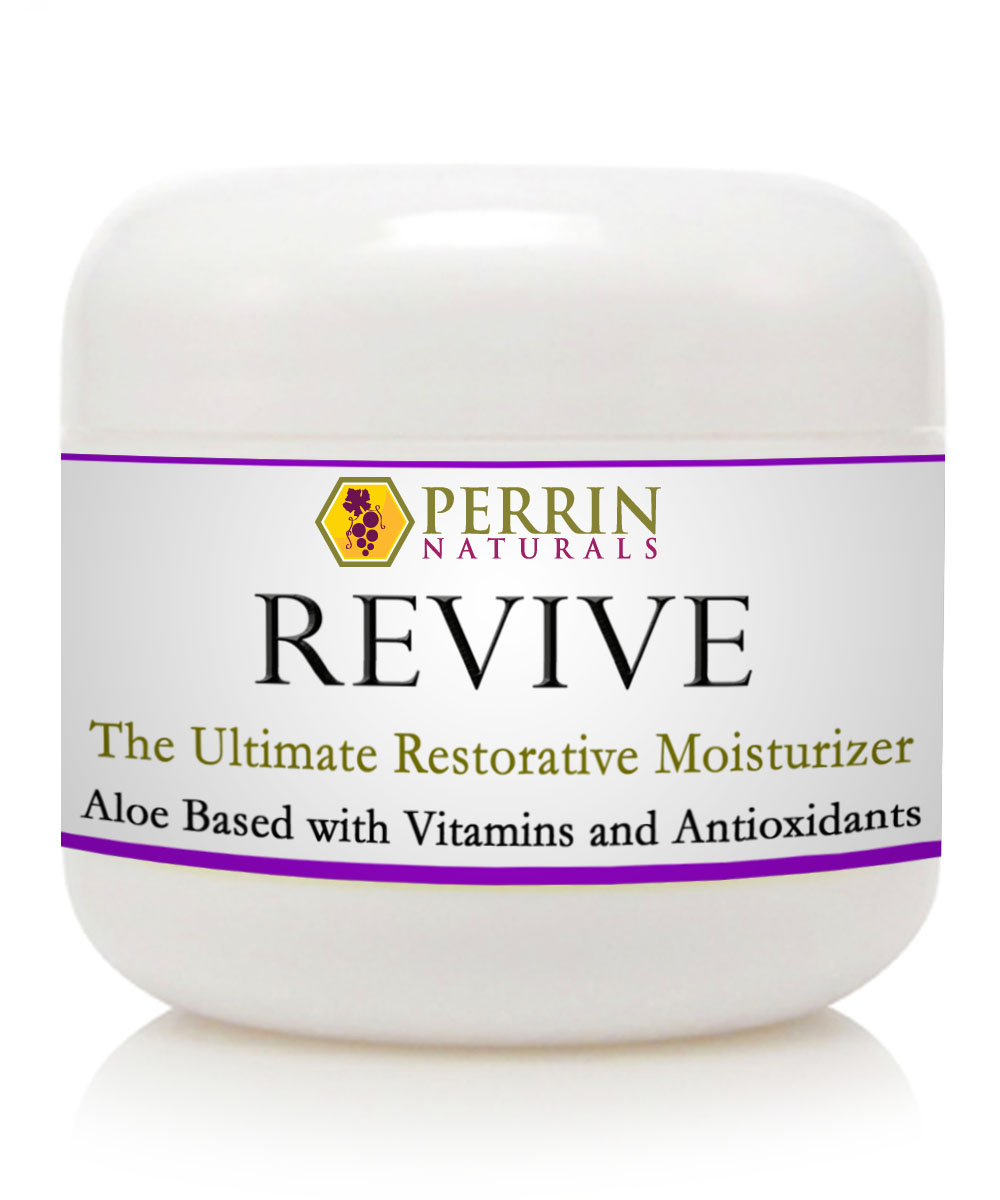 Short Description:
A Restorative Moisturizer - Antioxidant and Vitamin Enriched. 2 fl oz. On Sale: 20% off. Reg price is $53
Description
Ingredients
How to Use
Testimonies
REVIVE
A Natural Restorative Cream and Moisturizer
Antioxidant enriched. Vitamin enriched.   Botanical and Extract enriched.  Anti-aging & Restorative.
Moisturizing with organic Aloe Vera, in a base of organic beeswax, organic jojoba oil, grape seed oil, organic coconut oil, organic shea butter. 
Ingredient Benefits:
Resveratrol and Grape Seed Extract help to stifle the growth of abnormal skin cells, and encourage an apoptosis (a dying off) of those cells.
Alpha Lipoic Acid, an antioxidant found naturally in our bodies, helps to reduce fine lines, wrinkles, and photoaging.
CoQ10 is an essential antioxidant that is necessary for proper cellular function.
An Array of Antioxidants to fight free-radical damage: CoQ10, alpha lipoic acid, n-acetyl cysteine, vitamin C and E, grape seed extract, resveratrol, green tea extract.
Green Tea Extract: Epigallocatechin gallate (ECGC) is a polyphenol in green tea that acts as an antioxidant while also helping to rejuvenate dying skin cells.  ECGC may even promote wound healing.

 

Calendula: We infuse organic extra virgin olive oil with the calendula flower. Calendula is anti-inflammatory, anti-bacterial, and antifungal.
Vitamin E - 4,000 iu per jar. 

 Vitamin E is an antioxidant that has shown to have a variety of benefits for the skin.  Studies have shown vitamin E may help decrease the effects if psoriasis and erythema, aid in the reduction of stretch marks, reduce scarring from wounds.  It may help reduce the risk of skin cancer.

Linoleic Acid: 

Grape seed oil is high in linoleic acid.  Linoleic Acid 

is

an essential polyunsaturated fatty acid part of the Omega 6 fatty acids. It is necessary for proper skin health. Linoleic Acid 

helps retain moisture in the skin, has anti-inflammatory effects, and aids in 

wound healing. 

Jojoba Oil

 is actually a liquid wax that is structurally very similar to the natural sebum produced by our own skin. Jojoba oil is non-toxic, non-allergenic, and does not clog pores.  It is an antioxidant, is antibacterial, and is a natural fungicide. It has been shown to improve acne, help hair loss, cure cradle cap, and relieve sunburn. 

Ethyl L Ascorbic Acid ​is a superior form of Vitamin C, acting as a skin lightening ingredient with antioxidant and collagen boosting benefits.
Comes in 2 fl oz
Ingredients: Organic aloe vera, vegetable-derived emulsifying wax, organic shea butter, grape seed oil, natural vitamin E in soy oil, organic vegetable glycerin, organic beeswax, organic coconut oil, organic lecithin, organic honey, calendula infused organic olive oil, radish root ferment, organic castor oil, organic jojoba oil, ethyl l-ascorbic acid (vitamin C), resveratrol, alpha lipoic acid, n-acetyl cysteine, sodium bicarbonate, xanthan gum, cream of tartar, grape seed extract, green tea extract, organic corn starch, CoQ10, bergamot oil, lavender oil, patchouli, geranium oil, chamomile oil, coriander oil, jasmine absolute, biotin, vitamin D3. Aloe Vera contains less than 1% of potassium sorbate (a natural preservative) and citric acid (for PH).
Sun-Damage
Apply at least 2 times daily. 
Daily moisturizer
To use as a mildly corrective moisturizer apply 1-2 times daily.
Rosecea
Apply 1-2 times daily to affected area
Wrinkles
Apply to affected area 1-2 times daily.
Lichen Sclerosus
I have used Perrins for a while now. I used to use the cream complete, but never cared for the scent. They sent me a sample of the Revive and I love it. The smell is much lighter as is the cream. It still has the same healing ability. I had a red spot on my forehead that wasn't going away. A week of this and all gone! Now I use it every night.