Rose Essential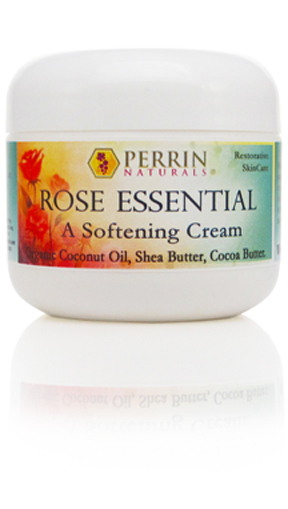 Short Description:
A softening cream with organic shea and cocoa butter, organic coconut oil, plus Resveratrol.
Description
Ingredients
How to Use
Rose Essential
Currently Out of Stock
Please Check Back Soon
A softening cream for dry, cracked, and weather damaged skin, as well as daily use for healthier skin.
Rose Essential is an all natural butter and oil based balm that combines Organic Shea Butter, Organic Coconut Oil, Organic Cocoa Butter, and Organic Beeswax with Organic Castor Oil and Organic Jojoba Oil, with the oils of Rose and Geranium.  Plus, we add Resveratrol, Alpha Lipoic Acid, and Vitamin E to promote proper skin growth.  
Resveratrol is an all natural antioxidant with antifungal, antibacterial, and antiviral properties that helps to promote healthy cell growth.

Vitamin E and Alpha Lipoic Acid to fight free radical damage.

Contains an array of oils and butters that moisturize and protect.

Anti-inflammatory and restorative.
2 fl oz
Organic coconut oil, organic shea butter, organic jojoba oil, grape seed oil, organic cocoa butter, organic beeswax, organic castor oil, natural vitamin E in soy oil, resveratrol, alpha lipoic acid, geranium essential oil, rose absolute. 
Use daily as desired.  For use as a skin conditioner, protectant, and moisturizer.