Creme Complete | Scent of Rose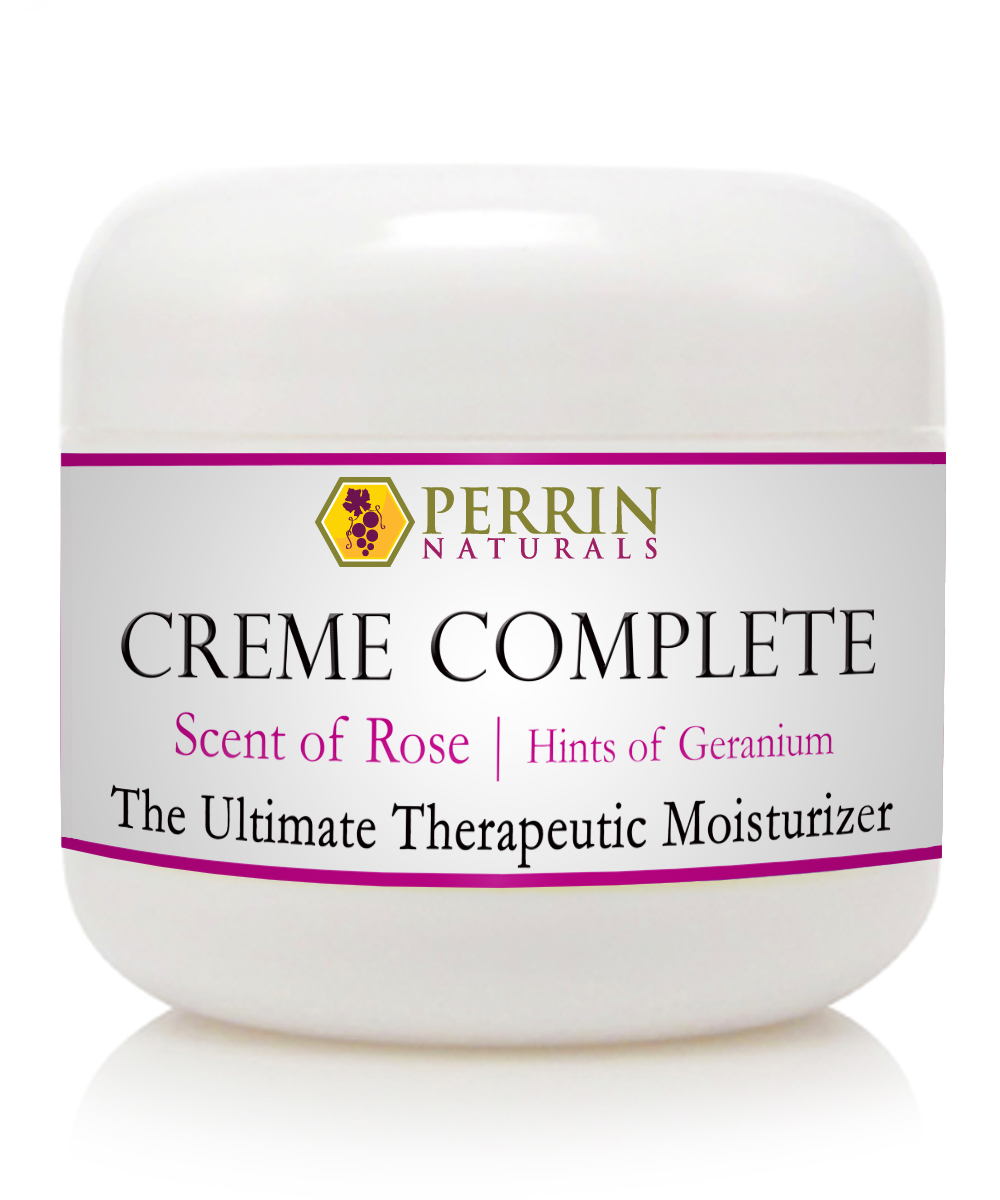 Short Description:
An alternative version of the original Creme Complete with different essential oils. 2 oz
Description
Other Info
Ingredients
How to Use
Creme Complete:
All Natural Skin Therapy
Scent of Rose
This version of the Creme Complete is exactly the same as the original except for the scent.
The Creme Complete is an all natural, multi-faceted approach to skin rejuvenation and restoration.
A corrective anti-aging formula for actinic keratosis treatment, sun-damaged skin, rosacea, age spots, lichen sclerosus, abnormal skin tissue, and overall skin health.
The Creme Complete contains the greatest combination and highest concentration of restorative and corrective ingredients of any of our creams and moisturizers. The Crème Complete™ is completely natural.  The Crème Complete™ restores, moisturizes, and protects.
Sun-damage has been reversed. Age spots have returned to normal, healthy looking skin.

Actinic keratosis has been corrected.

Lichen Sclerosus has been put into remission, and the skin rebuilt. Many of our customers are referred to us by their doctors, without us ever soliciting the doctors.
About some of the ingredients:
Resveratrol and grape seed extract help to stifle the growth of abnormal skin cells, and encourage an apoptosis (a dying off) of those cells.

Alpha lipoic acid helps to reduce fine lines and wrinkles.

CoQ10 helps to restore proper cellular function.

An array of antioxidants to fight free-radical damage: CoQ10, alpha lipoic acid, N-acetyl cysteine, vitamin C and E, grape seed extract, resveratrol.
2 oz
Before and After Pictures
Before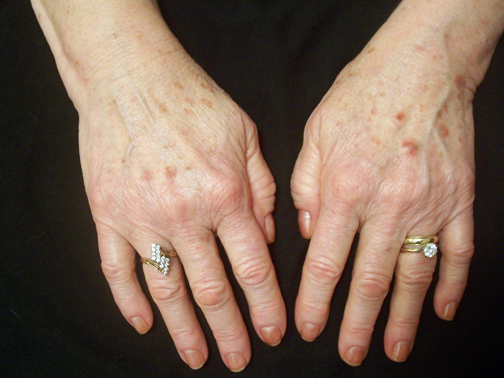 After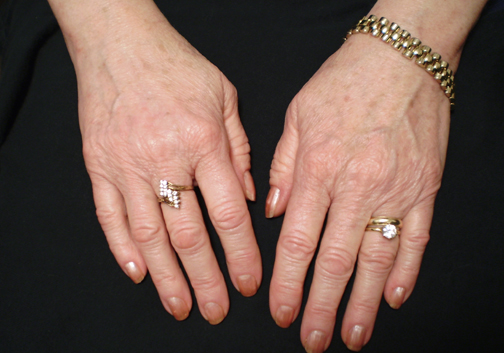 The pictures above are of a 66 year old woman.  The pictures were taken about 6 months apart.  The red abrasions in the picture on the left were initially flat "age spots".  After using the Creme Complete for 2 1/2 months they began to lift up, turn red, and peel away.  This is when the first picture was taken.  The second picture was taken 6 months later.*
*None of the statements on this website have been evaluated by the Food and Drug Administration.  None of the products sold on this website are meant to cure, prevent, or diagnose any disease.  Discontinue use of any product on this website if irritation occurs.  We do not suggest anyone use these products instead of seeing a licensed medical professional. 
*The information provided on this website should not be used during any medical emergency or for the diagnosis or treatment of any medical condition.
Results may vary from using Perrin's Blend™, Creme Complete™ and any of our other products.  Here at Perrin Naturals® Perrin's Products Inc., we cannot and do not guarantee results.  We cannot and do not diagnose ailments.  We can only report what others say our products have done for them, and in some cases get their testimony on video or in written from.  Since we began selling Perrin's Blend in 2005 we have had a product return rate of less than 1% or less than 1 in every 100 orders.  This also applies to the Creme Complete™ as well as our other products.
All the Testimonies are real and received without solicitation or compensation. We enjoy sharing the testimonies we receive with others. We are happy when we know our products have helped others and we love to share this information.  We also believe the feedback we receive from customers helps to guide others to make the better choice concerning how they use our products.  We provide products to the public that we ourselves use and consume.  Our goal is to help improve people's lives.
We only offer you products we use ourselves.
Our Goal Is To Help Others.
Beloved, I wish above all things that thou mayest prosper and be in health, even as t
Organic aloe vera, grape seed oil, organic beeswax, organic vegetable glycerin, organic cocoa butter, natural vitamin E in soy oil, organic castor oil, vegetable derived emulsifying wax, almond oil, organic safflower oil, organic extra virgin olive oil, honey, , organic lecithin, vitamin C, n-acetyl cysteine, resveratrol, alpha lipoic acid, sodium bicarbonate, rose absolute, grape seed extract, CoQ10, biotin, vitamin A & D, Organic cornstarch, cream of tartar. Essentials oils of geranium, patchouli, bergamot.
Sun-Damage
If using as a corrective for sun-damage use at least 2 times daily. 

With extended and extensive use the Crème Complete™ may cause sun-damaged areas to become inflamed, turn red, and to possibly peel.  Usually this is a good sign indicating that the abnormal skin tissue is responding to the cream.
Daily moisturizer
To use as a mildly corrective moisturizer apply 1-2 times daily.
Rosecea
Apply 1-2 times daily to affected area
Wrinkles
Apply to affected area 1-2 times daily.
Lichen Sclerosus
Application frequency varies with lichen sclerosus. Customers who use the Crème Complete™ for lichen sclerosus will apply the Crème Complete™ anywhere from 2-6 times daily.  Depending on the severity and location of the condition some customers experience discomfort, while others experience instant relief.  Please read our customer testimonies for more detailed accounts.  We also have a forum dedicated to Lichen Sclerosus.