Sunburn and Sun Protection Therapy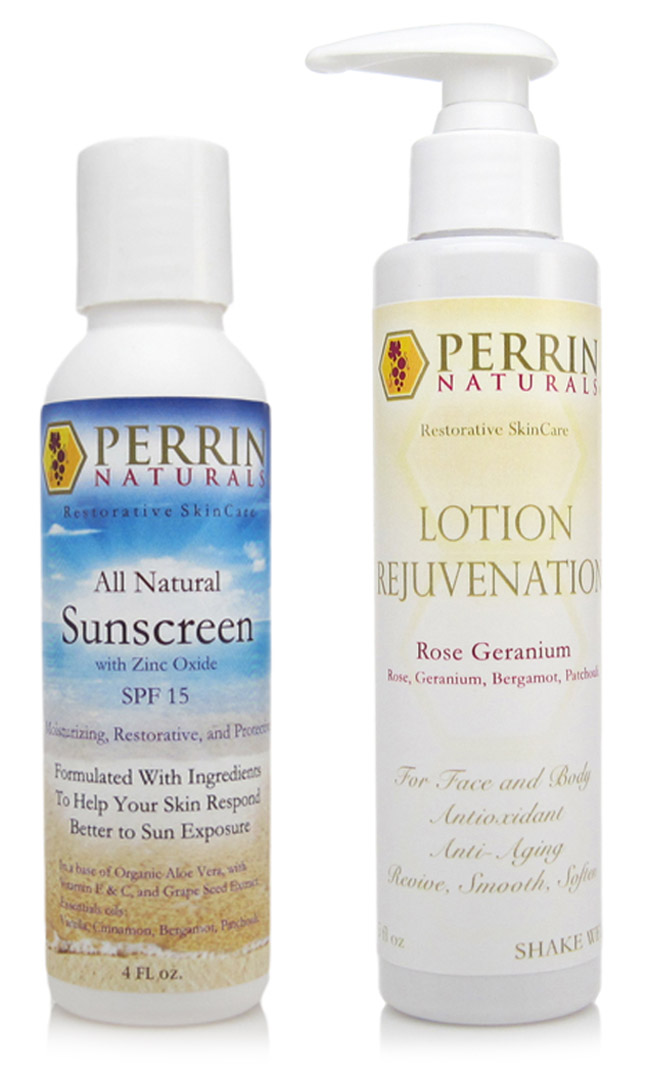 Short Description:
SunScreen and Lotion Rejuvenation discounted to $67.98 for a savings of $12 off the original price
Description
Ingredients
Testimonies
CURRENTLY OUT OF STOCK
PLEASE CHECK BACK WITH US
"I used Perrins Complete on an oven burn, and in a few hours I forgot that I burned myself.  Next day a mark but no pain."
Our moisturizers are aloe based and are also enriched with Antioxidants and Vitamins.  Many of our customers use our moisturizers on sunburns, heat burns, and chemical burns.  With that in mind we've created a product kit for sun exposure, for a savings of $12.00 off the regular price. Use our All Natural Sunscreen for protection while out in the sun and our Lotion Rejuvenation for post exposure or for any sunburns that have occurred.
Below are two studies and one article that discuss the healing effects of Vitamin E, Aloe Vera, and Resveratrol on burns, all of which are contained in the Creme Complete, Lotion Rejuvenation, and Sunscreen.
Aloe Vera and Resveratrol for Burn Wounds
---
Lotion Rejuvenation
Anti-Aging. Moisturizing. Restorative. A whole body treatment.
Refreshingly light, softening, and therapeutic. Like the Creme Complete™, the Lotion Rejuvenation™ contains a high combination and concentration of vitamins and antioxidants to help correct damaged skin caused by sun exposure, environment, and stress.  An all natural formula designed to lessen the effect of lines and wrinkles for younger, healthier looking skin. A gentle, purifying complex to protect against free radical damage and to revitalize aging skin cells. A combination of the finest softening emollient oils to soothe dryness. The Lotion Rejuvenation™ is truly one of the most exquisite lotions on the market. 
A whole body revitalizing moisturizer.

Resveratrol and grape seed extract to help correct 

damaged skin 

and restore the skin to a healthy state.

An array of antioxidants to fight free-radical damage: CoQ10, Alpha Lipoic Acid, N-acetyl cysteine, Vitamin C & E.

Alpha lipoic acid to fight fine lines and wrinkles.

Jojoba oil to help balance out oily and acne-prone skin.

Contains the precious oil of organic Rose Hips combined with Jojoba oil, organic Extra Virgin Coconut oil, and organic Shea Butter.

Fragrance of Rose, Geranium, Bergamot, and Patchouli.  
---
All Natural Sunscreen 
Currently UnAvailable
(Out of Stock)
Please Check Back Soon
Moisturizing, Restorative, and Protective.  SPF 15
There are natural substances that help block UVB/UVA rays and also help your skin respond better to sun exposure. Perrin Naturals® All Natural Sunscreen combines these natural, restorative, and protective ingredients with the natural sun blocking power of zinc oxide.  Formulated in a base of organic aloe vera, vegetable oils, beeswax, and organic shea butter. Enriched with antioxidants and vitamins that not only help correct existing sun damage but also work to prevent further damage.
Ingredient Highlights
Zinc Oxide provides natural UVA/UVB protection.  

Organic Coconut Oil, Organic Shea Butter, Organic Jojoba Oil all have sunblocking capabilities.

Vitamins C and E.  Several studies have shown vitamin C and E help to protect against ultraviolet damage when applied topically as well as taken internally.

Grape Seed Extract and Resveratrol help to correct existing sun damage as well as provide antioxidant protection from damage caused by UV rays.

Organic Aloe Vera helps to lessen the burning of over exposure to the sun rays.
Essentials oils of Vanilla, Cinnamon, Bergamot, Patchouli.
4 oz
Lotion Rejuvenation
Organic aloe vera, organic jojoba oil, grape seed oil, organic beeswax, plant derived emulsifying wax, organic shea butter, organic coconut oil, organic vegetable glycerin, honey, organic lecithin, natural vitamin E (in soy oil), organic rose hip seed oil, vitamin C, alpha lipoic acid, resveratrol, n-acetyl cysteine, grape seed extract, coQ10, vitamin A and D, biotin, rose oil, geranium oil, bergamot oil, patchouli oil, rice flour, sodium bicarbonate, organic corn starch, cream of tartar, xanthan gum.
All Natural Sunscreen
Organic aloe vera, zinc oxide, organic coconut oil, emulsifying wax (vegetable derived), organic jojoba oil, organic shea butter, grape seed oil, beeswax, organic castor oil, organic rosehip seed oil, lecithin, organic vegetable glycerin, vitamin E in soy oil, pure honey, vitamin C, alpha lipoic acid, vanilla essential oil, n-acetyl cysteine, grape seed extract, resveratrol, organic corn starch, sodium bicarbonate (baking soda), cream of tartar, xanthan gum, vanilla essential oil, bergamot essential oil, cinnamon essential oil, patchouli essential oil, coQ10.
Be the first to rate this product!