Lotion Rejuvenation | Rose Geranium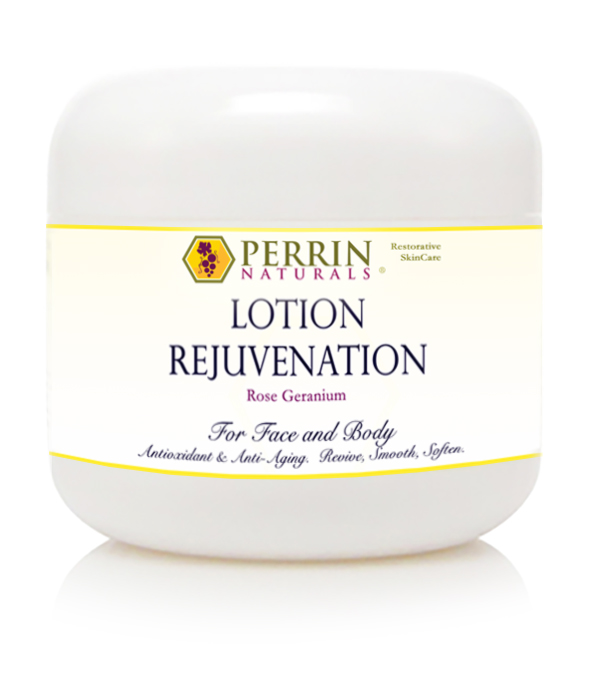 Short Description:
Anti-Aging. Moisturizing. Restorative. A whole body treatment. 4 oz
Description
Ingredients
How to Use
Lotion Rejuvenation:
Currently Out of Stock
All Natural Anti-Aging Moisturizer
Anti-Aging. Moisturizing. Restorative. A whole body treatment.
Refreshingly light, softening, and therapeutic. Like the Creme Complete™, the Lotion Rejuvenation™ contains a high combination and concentration of vitamins and antioxidants to help correct damaged skin caused by sun exposure, environment, and stress.  An all natural formula designed to lessen the effect of lines and wrinkles for younger, healthier looking skin. A gentle, purifying complex to protect against free radical damage and to revitalize aging skin cells. A combination of the finest softening emollient oils to soothe dryness. The Lotion Rejuvenation™ is truly one of the most exquisite lotions on the market. 
A whole body revitalizing moisturizer.

Resveratrol and grape seed extract to help correct

damaged skin 

and restore the skin to a healthy state.

An array of antioxidants to fight free-radical damage: CoQ10, Alpha Lipoic Acid, N-acetyl cysteine, Vitamin C & E.

Alpha lipoic acid to fight fine lines and wrinkles.

Jojoba oil to help balance out oily and acne-prone skin.

Contains the precious oil of organic Rose Hips combined with Jojoba oil, organic Extra Virgin Coconut oil, and organic Shea Butter.

Fragrance of Rose, Geranium, Bergamot, and Patchouli.  
4 oz
Organic aloe vera, organic jojoba oil, grape seed oil, organic beeswax, plant derived emulsifying wax, organic shea butter, organic coconut oil, organic vegetable glycerin, honey, organic lecithin, natural vitamin E (in soy oil), organic rose hip seed oil, vitamin C, alpha lipoic acid, resveratrol, n-acetyl cysteine, grape seed extract, coQ10, vitamin A and D, biotin, rose absolute, geranium oil, bergamot oil, patchouli oil, sodium bicarbonate, organic corn starch, cream of tartar, xanthan gum.  Aloe Vera contains less than 1% of potassium sorbate (a natural preserative,) and citric acid (for PH).
The Lotion Rejuvenation can be used as often as needed, as a daily skin conditioner, moisturizer, or as a corrector for damaged areas.  It can also be used as an after sun conditioner to lessen sunburn.