Natural Treatment for Cold Sores & Oral Herpes
Blist-Eeze

™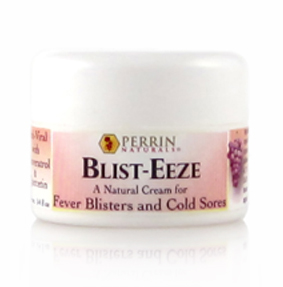 An all-natural cream to help your skin heal from 
fever blisters, cold sores, and the sores associated with oral and genital herpes.
*
Blist-Eeze is an all-natural cream that helps your body fight the virus that causes fever blisters, cold sores, and the sores
associated with genital herpes. Blist-Eezecontains an array of natural anti-viral ingredients to boost your body's ability to suppress the virus and to speed up the healing process.  For best results, Blist-Eeze should be applied at the first sign of a fever blister or cold sore, and then as often as needed up to 6 times in a 24-hour period.
Blist-Eeze is a proprietary blend made up of many ingredients, including the following ingredients, shown to promote healing:
Aloe vera, which has anti-viral effects, soothes and heals symptoms of the herpes simplex virus (HSV). 
Resveratrol, which inhibits replication of HSV and may help control outbreaks. 
Quercetin, which has bactericidal, anti-inflammatory, and anti-viral properties, slows the spread of the virus.
Ingredients:
Organic aloe vera, grape seed oil, beeswax, vegetable glycerin, organic cocoa butter, natural vitamin E in soy oil, organic castor oil, vegetable derived emulsifying wax, almond oil, organic safflower oil, organic extra virgin olive oil, honey, organic rose hip seed oil, lavender oil, lecithin, vitamin C, n-acetyl cysteine, resveratrol, alpha lipoic acid, quercetin, sodium bicarbonate, grape seed extract, coQ10, biotin, vitamin A & D, lemon oil, frankincense oil, peppermint oil, geranium oil, cornstarch, cream of tartar, and rice flour.
$16.99  .25 oz  

---
Ingredient References for Concentrate Cream 
See e.g., Chen, X., et al., "Inhibition of herpes simplex virus infection by oligomeric stilbenoids through ROS generation," Antiviral Res. July 2012, available at http://www.ncbi.nlm.nih.gov/pubmed/22584350; J. Docherty, et al., "Resveratrol inhibition of herpes simplex virus replication," Antiviral Res., Oct. 1999, available at http://www.ncbi.nlm.nih.gov/pubmed/10551373.    
[1]S. Lyu, et al., "Antiherpetic activities of flavonoids against herpes simplex virus type 1 (HSV-1) and type 2 (HSV-2) in vitro," Antiviral Res., Oct. 1999, available at http://www.ncbi.nlm.nih.gov/pubmed/16350858. 
*None of the statements on this website have been evaluated by the Food and Drug Administration.  None of the products sold on this website are meant to cure, prevent, or diagnose any disease.  Discontinue use of any product on this website if irritation occurs.  We do not suggest anyone use these products instead of seeing a licensed medical professional. 
*The information provided on this website should not be used during any medical emergency or for the diagnosis or treatment of any medical condition.
Results may vary from using Perrin's Blend™, Creme Complete™ and any of our other products.  Here at Perrin Naturals® Perrin's Products Inc., we cannot and do not guarantee results.  We cannot and do not diagnose ailments.  We can only report what others say our products have done for them, and in some cases get their testimony on video or in written from.  Since we began selling Perrin's Blend in 2005 we have had a product return rate of less than 1% or less than 1 in every 100 orders.  This also applies to the Creme Complete™ as well as our other products.
All the Testimonies are real and received without solicitation or compensation. We enjoy sharing the testimonies we receive with others. We are happy when we know our products have helped others and we love to share this information.  We also believe the feedback we receive from customers helps to guide others to make the better choice concerning how they use our products.  We provide products to the public that we ourselves use and consume.  Our goal is to help improve people's lives.
We only offer you products we use ourselves.
Our Goal Is To Help Others.
Beloved, I wish above all things that thou mayest prosper and be in health, even as thy soul prospereth. III John, verse 2