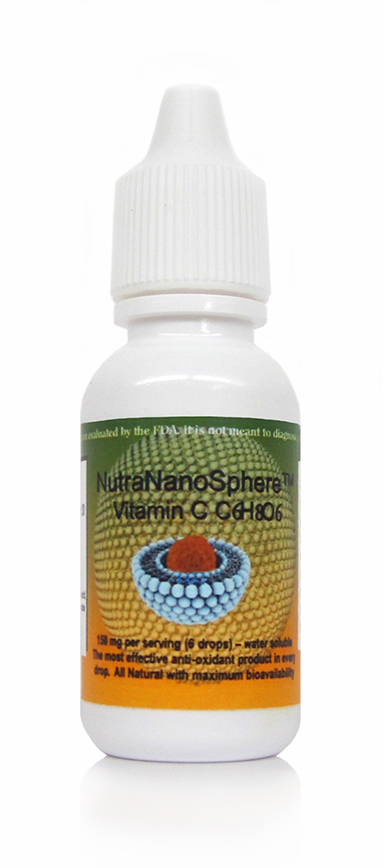 Vitamin C
Short Description:
High Bioavailable Vitamin C
Description
Other Info
Ingredients
Vitamin C
NutraNanoSpheres

™
High Bioavailability without Degradation 
Most vitamin C supplements have a bioavailability rate of about .7%. Studies have shown our NutraSphere Vitamin C has a 90-98% recovery rate in the bloodstream 30 minutes after taking an oral dose.
These nutraceutical compounds are encapsulated in water soluble liposomes NutraNanoSpheres™ that surivive the journey through the stomach and intestines and fuse with the tissue membranes to deposite the compounds safely into the bloodstream.
Vitamin C is an antioxidant that helps protect the body against cell damage from free radicals.  Vitamin C also plays an integral part in the synthesis of collagen, which helps support healthly skin.  It also aids with the absorption of iron. Vitamin C is an essential water-soluble nutrient found in many fruits and vegetables, and must be consumed and replenished daily.  
Serving size: 6 drops
150 mg per 6 drops
30 servings per bottle
Total volume: 10 ml
Water, ester from fatty acid, ascorbic acid, gum arabica, calcium sorbate